Curry is believed to have first derived from Pakistan around 2500 BCE, according to CNN. Originally named after the curry tree, which has leaves that are often incorporated into Indian dishes, surprisingly enough curry itself does not actually require this ingredient. Curry includes a wide range of dishes and is used as a label for stews containing spiced meat, fish, or vegetables. The word curry is thought to be a misunderstanding — most likely mistaken for the word "kari," which is typically used to characterize a dish containing spiced and sautéed meat and vegetables in southern India.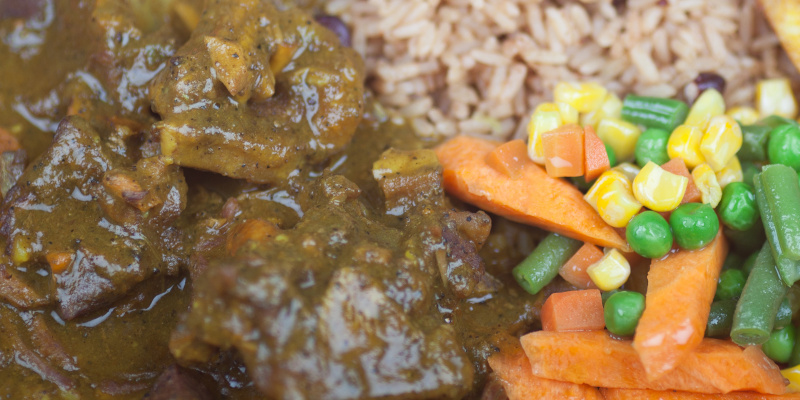 Similar to many other forms of Caribbean cuisine, curry goat was brought to the region from migrants from South Asia, and is most common in former British colonies like Trinidad and Tobago, Guyana, Jamaica, and Saint Kitts and Nevis. This is because indentured laborers from countries like India, Pakistan, and Bangladesh were brought to the Caribbean to work on sugar cane plantations following the British Empire's abolishment of slavery. As a result of this movement, many cooking ingredients, techniques, and traditions from these areas were brought to the islands.
Jamaican curry goat is a popular dish that's commonly served on special occasions or at parties in Jamaica. Curry goat depends on the delicious succulence of the lamb – which contains more fat than beef or pork – to form a mouthwatering meal. The goat is seasoned with flavorings hailing from India and Jamaica (usually a mix of turmeric, allspice, coconut milk, scotch bonnet chili peppers, garlic, tomatoes, onion, and thyme) and is most often served with a side of rice, roti, or fried plantains. Some variations include cooking it with mutton or making it heartier by adding potatoes.