The Caribbean is laden with pristine beaches, sparkling ocean views, and most of all, spectacular cuisine. The food in this region is incredibly unique because it combines so many cultures, spices, and traditions in its dishes. With influences from Europe, Africa, the Middle East, Asia, and the Americas all merging in one meal, you'll be sure to enjoy whatever tantalizing dish you select.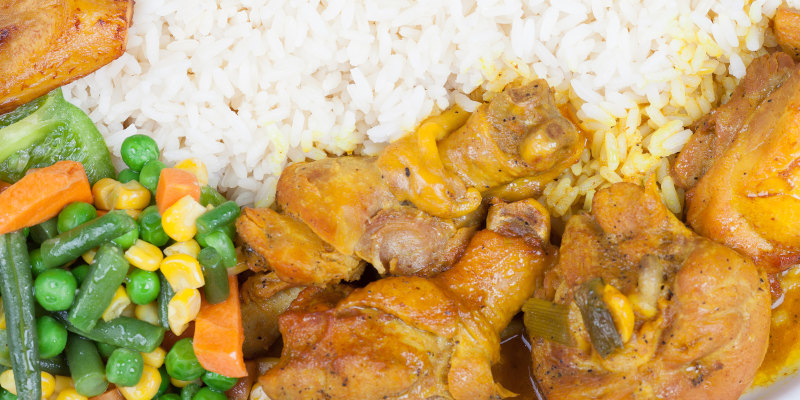 Whether you're lucky enough to be dining on the islands or are indulging in a more local choice, here are three of the best Caribbean food options you'll surely want to try:
Jerk: Whether it's chicken, beef, or another kind of meat, jerk rub spices up any meal with Jamaican flair. This seasoning blends items you may find in your kitchen cabinet like salt, pepper, cinnamon, allspice, nutmeg, thyme, and brown sugar, along with Jamaican flavorings like scotch bonnet peppers. After being marinated in these herbs and spices, the meat is smoked — traditionally using fresh green wood from a pimento tree. The result is a spicy, sweet, smoky creation that is beloved by many.
Jamaican patties: A golden puff pastry enveloping deliciously seasoned meat, Jamaican patties are an example of some of the best Caribbean food. These tasty treats combine flavor influences from England, Africa, and India.
Curry chicken: Hailing from the island nation of Trinidad, curry chicken is a delicious dish inspired by Indian flavors and techniques. The meal is seasoned by adding flavorings like curry powder, curry paste, chili, ginger, lemongrass, and coconut milk to create a paste or dry powder. The chicken is cooked until it's at a fall-off-the-bone consistency and then typically served with a side of rice. This mouthwatering dish is some of the best Caribbean food available and will excite your taste buds!