Jamaican patties are delicious, savory hand pies that originate from the Caribbean island of Jamaica. They are extremely popular among locals and tourists, and the flavors are just as vibrant as the island culture there. While you can expect to find this culinary delight on the island, there are some restaurants in the U.S. that serve authentic Jamaican patties that channel the essence of Caribbean flavor, including Caribbean Hut!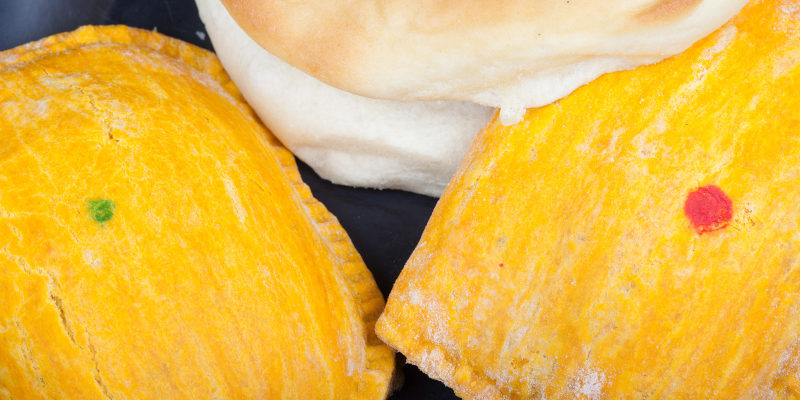 Jamaican patties are savory pastries that look similar to empanadas, turnovers, or hand pies, but their flavor is unique with the bold, bright flavors you associate with Jamaica. The patties have a signature golden-yellow flaky crust flavored with butter, turmeric, and other spices. Not only is the color a beautiful hue, but the warmth and flavor start with the enclosing pastry.
Jamaican patties have a delicious filling, traditionally made with ground beef spiced to perfection and the signature scotch bonnet peppers found in a variety of Jamaican dishes. Other spices include warm, savory herbs and seasonings, including thyme and allspice. This boldly flavored dish is sure to delight anyone who tries it. While ground beef is the traditional filling of choice, others are available, such as chicken and vegetable options. In many places, Jamaican patties are served with coco bread, another Jamaican delicacy. These savory pastries are more than just a snack or meal option; they embody the flavors that make Jamaican cuisine unique and delectable.
At Caribbean Hut, we offer authentic Jamaican patties for your enjoyment. We love bringing Caribbean flavors to Charlotte, North Carolina, so you can enjoy the flavors of Jamaica close to home. If you are looking for a new flavor profile and some delicious eats, come visit us. We have two locations for your convenience and look forward to both nourishing and delighting your tastebuds when you try our dishes!